Tag:
Textron
Asset Allocation
The old LDI method of sliding into bonds from stocks is past its prime, a study from the firm says.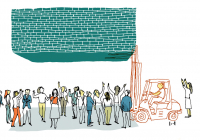 Pensions
The trend is mounting for corporate sponsors to shunt liabilities to insurers. But some don't want to do that, and others can't.
Newsmakers
Textron CIO talks LDI, public vs. private pensions, and how to set up your retirement.